Top 10 Medical Tourism Destinations for Nigerians
From natural splendors to historical cities, medical tourism takes you to the finest architectural, romantic spots, serene Ghats, and spectacular landscapes. Visiting some of the top medical tourism destinations offers you an opportunity to combine world-class medical care with vacation.
Getting in and out of these cities allows you to experience luxury, sightseeing, and exotic dining, including a fast recuperation. The booming medical tourism is getting popular for many good reasons.
In Nigeria, the inadequacy of the health system and the mass exodus of promising medical personnel to advanced countries have encouraged many Nigerians to travel abroad for medical care.
See also: Top 10 Birth Tourism Countries For Nigerians
Millions of people leave their countries because of the poor delivery service, absence of specialist services, poor funding, poor medical infrastructure, and unavailability of human capital. While those in advanced countries travel to affordable destinations with customized medical support systems.
They go for medical treatments ranging from cardiac surgeries, kidney transplants, orthopedic surgeries, cosmetic surgeries, neurosurgeries, and other health conditions, including child delivery.
Top Medical Tourism Destinations
Thinking of the best place for medical help, we have listed the following destinations:
‍ India
India is listed among the best medical tourism destinations in the world. Medical Tourism Index (MTI) ranked India first in the medical tourism sector. The country offers an expanded visa policy that ensures medical tourists stay up to 60 days, including a medical attendant visa for relatives that wish to accompany the patient.
Benefits
High level of medical care.
Low prices compared to most medical tourism destinations.
High-quality generics.
World-recognized doctors.
No language barrier.
Popular Specialties:
Hematology and oncology
Cardiac surgery
Transplantation
Oncology
Gastroenterology.
Germany
According to the 2020/2021 MTI overview, Germany ranks 12th place for the quality of medical services it renders. The country makes use of robotic surgery. Robots perform reliable operations with less risk of complication, thin incisions, and minimal blood loss. Robotic catheters are used for the treatment of cardiac arrhythmias.
Benefits
Innovative technologies for laparoscopic surgery
State-level certification.
Original drugs.
Price transparency.
Popular Specialties
Oncology
Cardiac surgery
Neurosurgery
Orthopedics
Hematology and oncology.
United Kingdom
The United Kingdom is home to world-class medical facilities with renowned medical institutions including the London Orthopedic Clinic, the Cambridge Complex Orthopedic Trauma Center, and Birmingham Children's Hospital. The country is ranked fifth in the global ranking of medical tourism destinations by the MTI.
Benefits
world-class consultants
exceptional clinical governance
highest medical standards for the benefit of private patients
Popular Specialties
Oncology
Trauma
Diabetes
Fertility
Spain
Every year, thousands of international patients visit Spain for different medical management. The clinics in the country perform over 2.4 million surgeries yearly. Spain has some of the best medical facilities in the world, especially in the advanced treatment of pediatric oncology. The country ranks 7th place in the world according to the World Health Organization
Benefits
Affordable prices: Treatment in Spain is 2-times lower than in Canada or the United States of America
Opportunity to have vacation and medical treatment.
Popular Specialties
Neurosurgery
Oncology
Orthopedics
Hematology
Plastic surgery.
Israel
Israel seats in the 8th position according to MTI. The country has become a favorite medical tourism destination for patients who want advanced medical attention. The Medical Tourism Division of the country develops travel and healthcare packages tailored to each patient.
The division offers special care, emergency flights, testing, and treatment. Israel treats thousands of patients from around the world, including countries like Nigeria, Russia, Ukraine, Cyprus, Kazakhstan, Georgia, Bulgaria, Romania, Hungary, and the United States.
Benefits
Compliance with strict medical standards.
Highly-trained doctors.
Advanced equipment.
Popular Specialties
Oncology
Neurosurgery
IVF
Dubai
Dubai might be legendary with its high-rise buildings, ultramodern architecture, luxury shopping, and a blend of the ancient with the future, it is a popular medical tourism destination. The country created DXH, a website designed to offer a wide range of comprehensive health packages and extensive travel information including visa requirements, hotel, and flight booking information.
Benefits
High-quality medical care
World-class hospitals
International doctors across several specialties.
Popular Specialties
infertility treatment
Orthopedics
Dermatology
Cosmetic surgery
Dental procedures
Canada
The 2020 edition of the Medical Tourism Index ranks Canada as number one, making it a must-visit for those who want quality health care. The country boasts of a flourishing tourism sector and its proximity to the United States of America allows tourists to crossover to the states after treatment.
University Health Network, which includes the Princess Margaret Cancer Centre, Toronto Western Hospital, Toronto Rehabilitation Institute, and Toronto General Hospital has made a global impact.
Benefits
Quality and highly-specialized medical treatments
Top-of-the-line healthcare facilities.
Government-funded healthcare system
Popular Specialties
Joint replacements
Cardiac surgery
Eye surgery
Cosmetic surgery
Fertility treatments
Elective surgery
Singapore
Singapore is the second-best place to come for your medical treatment according to the Medical Tourism Index. The country offers International Patient Service Centers (IPSCs), which function as medical travel agencies to mediate between international patients and Singaporean healthcare providers.
Benefits
High-quality healthcare facilities and services
Affordability.
Well-trained specialists.
‍ Popular Specialties
Orthopedic Surgery
Cardiac Surgeries
Cancer and Oncology.
Neurology and Neurosurgery.
Cosmetic Surgery.
Dental Services
Bariatric Surgeries
Costa Rica
Costa Rica is relatively new to many patients seeking medical help abroad. While Costa Rica offers millions of medical tourists a haven for treatment and relaxation. Costa Rica combines superior accreditation, government bolstering of the medical community infrastructure, cost incentives, an inherent quality of care in its medical sector.
The affordable medical treatments such as dentistry, which range from a simple implant to full-mouth restoration, make it a popular destination for patients. The quality of care often surpasses the equivalent found in advanced countries. The medical professionals exceed the standards of the Accreditation Association for Ambulatory Health Care, an international body that maintains the highest level of patient confidence.
Benefits
Exotic recovery retreats
Highly-trained doctors
Affordability
Popular Specialties
Eye surgery
Cancer therapy
Bariatric surgery.
Complex restorative and cosmetic dentistry (such as implants)
Orthopedics
Heart work.
Thailand
Bangkok is the world's epicenter of medical tourism, accommodating millions of patients every year for different medical management. Bangkok has over 20 Joint Commission International (JCI) accredited hospitals, due to its latest advances in surgery and treatment. BNH offers patients a 4D Mammography, which can detect cancerous tissue far earlier than ever before, and a Cath lab for physically examining patients with heart symptoms.
Thailand medical personnel are well trained in advanced procedures and treatments. Wellness tourism is fast growing in the country, bringing more patients to Thailand.
Some hospitals are designed to compete with top-end hotels. They help calm patient's anxiety with live pianists performing for the waiting room, grand chandeliers, and a choice of restaurants.
Benefits
Low health care costs and excellent service
Language is not a barrier
Popular Specialties
Cosmetic surgery
Restorative dentistry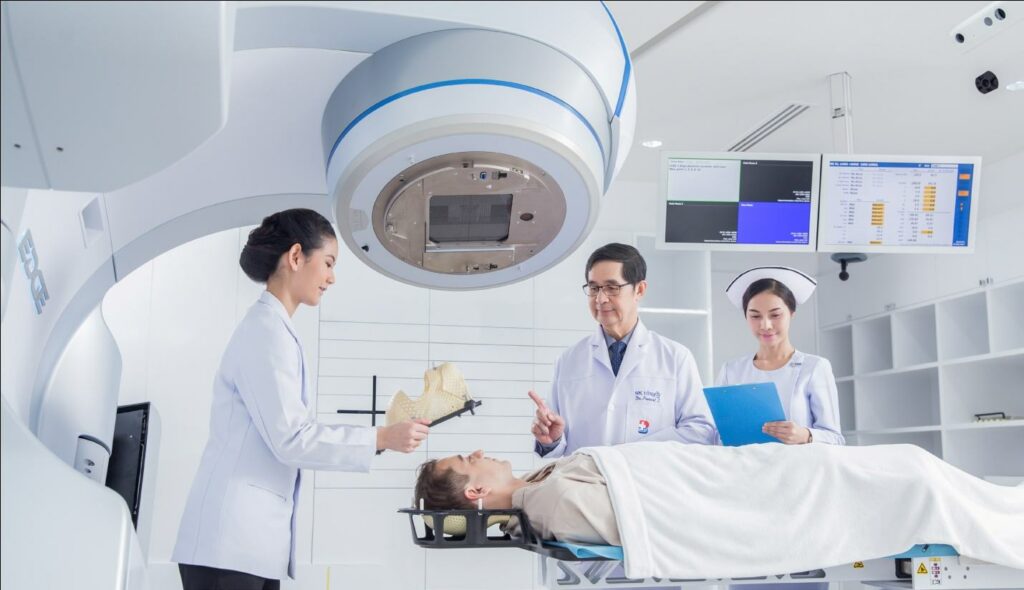 The Process of Getting a Hospital
Website Guide
Visit your preferred hospital website and collect information about the treatment you want to undertake.
Talk with specialists, doctors, and consultants and evaluate your medical conditions.
Send your medical report, records, or diagnostic images to the hospital. This helps the hospital to properly assess your medical condition.
Connect with the Surgeon/doctors
You should discuss more with your assigned doctors or surgeons. They will prepare a complete outline of the surgical and recuperation period for your selected medical procedures. You receive details about your treatment duration and recovery time.
The Process of Getting a Medical Visa
Each country has its visa application procedure for patients seeking to visit for medical tourism. A medical visa (MED Visa) is granted to Nigerians whose sole purpose of visiting their choice medical destinations is to seek medical treatment in specialized /recognized/ established Hospitals/treatment centers in those countries.
However, all countries demand similar documents such as:
Original passport valid for a minimum of 6 months (or for the validity requested, if greater)
Two photographs
Travel health insurance covering the whole stay
Original up to date personal bank statements of the last three months
Copies of up to date medical certificate issued by the treating medical doctor/hospital in Nigeria including copies of CT Scan/MRI/X-ray reports (as applicable)
Confirmation from a hospital/doctor in your destination (not older than three months) containing the following information:
Date and place of appointment/treatment
Estimated duration of the treatment
The expected costs
The expected costs paid already
The nature of the patient's illness and the reason for referring the patient for medical treatment to the established/specialized/recognized medical Institute/hospital concerned in the patient's choice destination.
If you are not staying at the hospital your whole stay confirmed hotel reservation/booking or proof of any other accommodation in your destination
In case of sponsorship, an affidavit from the sponsor along with a copy of his/her Identity Card/Passport copy is to be attached.
Transplant patients to produce compatibility reports of donor and patient.
There you have it. Do you know any other medical tourism destination that's not on the list above? Do share in the comments section and also share this post to your social networks using the buttons below. Many thanks!
For free travel vouchers, tips and hacks, be sure to subscribe.