15 African dishes that will leave you wanting more
Africa is home to some of the world's tastiest dishes. According to CNN, "this is a continent that can arguably claim to have invented cooking". Leave claims aside, African cuisine delivers delicious, mouthwatering African dishes that employ a rich array of spices and base ingredients to create amazing culinary delights. Each meal is sure to exceed whatever expectations you have.
You are spoiled for choice with each dish, making you value the very cultural essence of its origin. We will be travelling across the four wings of Africa, the North, the South, the East and the West to taste 15 African Dishes that will leave you totally dazzled.
#1. Ewa Agoyin
Ewa agoyin is a popular street food made up of soft, mashed beans and caramelized dried pepper sauce. It is locally enjoyed with fried plantain and soft, fluffy baked bread. Some will preferably eat it with cassava flakes, popularly called garri.
It is a widely accepted meal in Nigeria but originated from Benin Republic. Its sauce is especially tasty with its ginger, onions, and crayfish spices. Cowhide, popularly known as "kpomo" or "ponmo" in Lagos as well as fried fish, can accompany this meal especially when they have been sitting in the sauce for some time and have absorbed its flavors. You won't ever regret taking your taste buds on a journey with Ewa Agoyin.
#2. Jollof Rice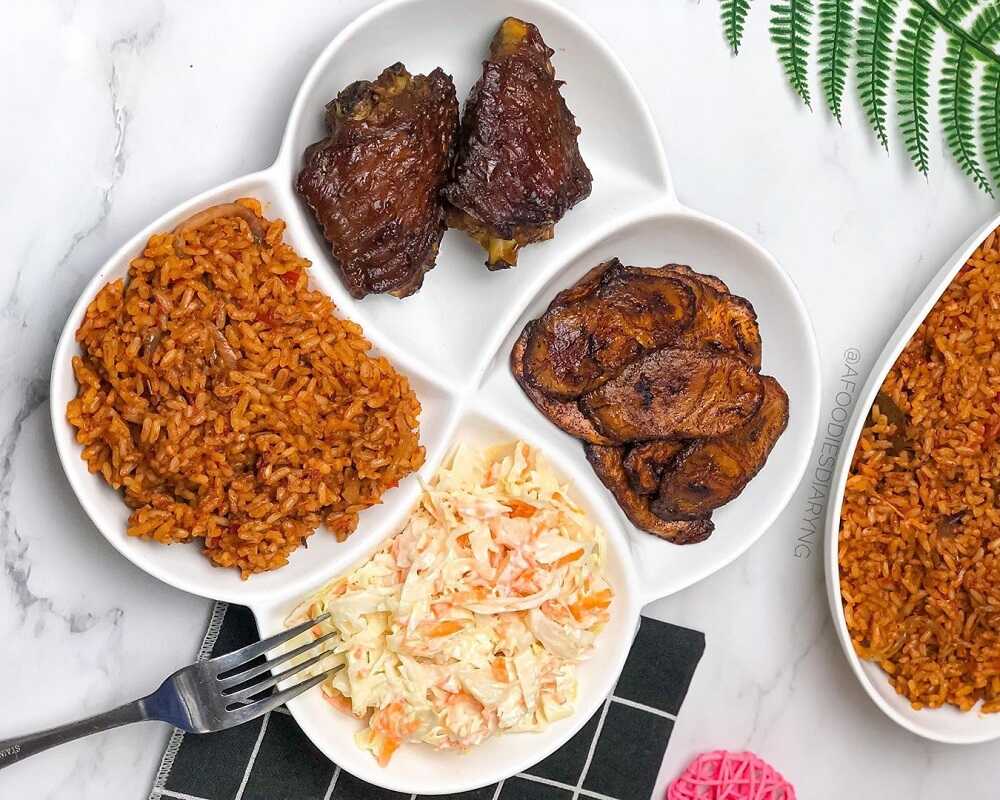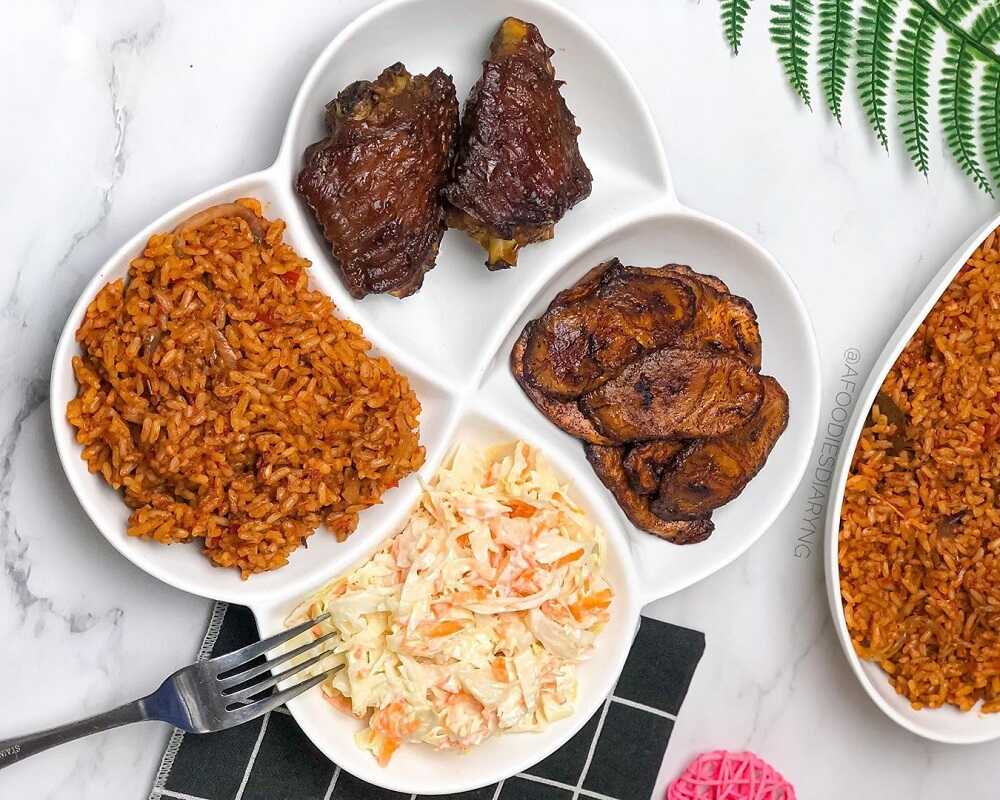 Jollof rice is a trademark meal of West Africa, triggering numerous wars of words between Nigeria, Ghana, and Senegal, as to who makes the most delicious variety of this meal. It is typical of all parties. Party Jollof is ever present at weddings, naming ceremonies, house warming, baby or bridal showers, or just random family parties. It is also found at every eatery on the streets of Lagos.
It is a pot of rice prepared with rich tomato sauce and spicy meat stock. It is often accompanied with beef, chicken, or turkey. The combination of curry, thyme, ginger, garlic, bay leaf, and onion spices leaves you wanting more. Its rich orange color makes it especially appealing. It can be further garnished with diced carrots, tiny liver chops, or sweet corn. It is sometimes served with moin-moin, coleslaw, and fried plantain.
#3. Moin-moin
No matter how well this dish is described, justice can only be done to how tasty it is when you eat it. It is a steamed bean pudding made from beans, onions, ginger, crayfish, and bell peppers. The addition of smoked fish, boiled eggs, and corned beef (optional) makes it heavenly. It can be eaten alone or with Jollof rice, white rice, bread, garri, Eko or pap (steamed corn puddings).
#4. Shisa Nyama /Braai/Pap en Vleis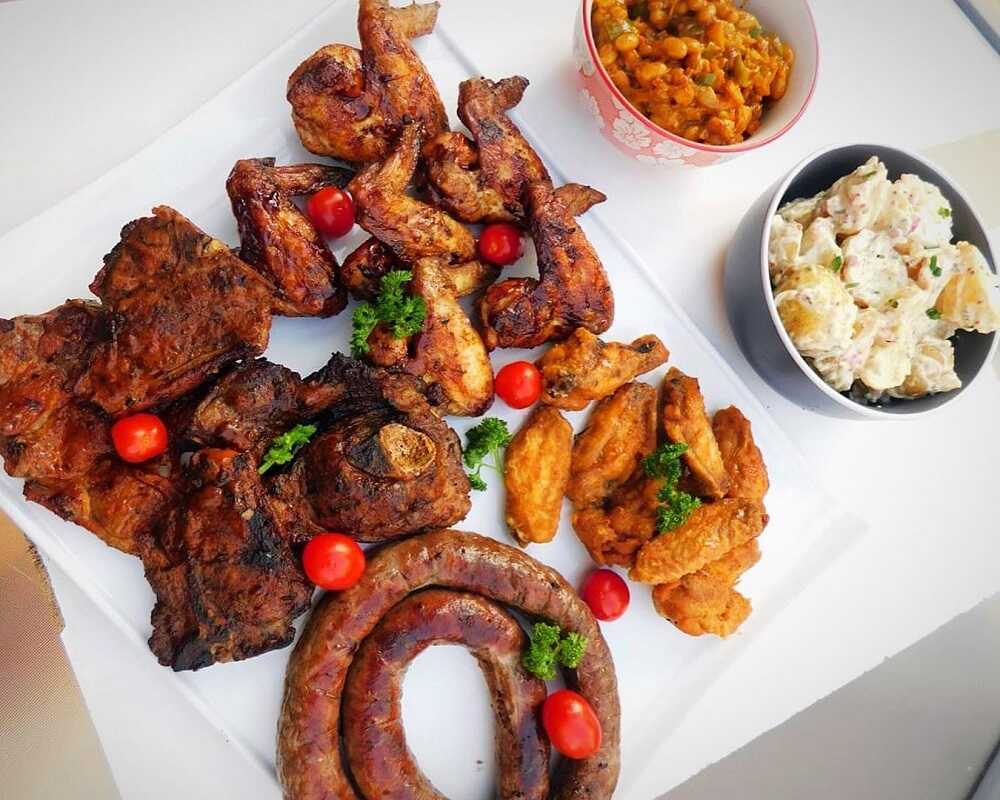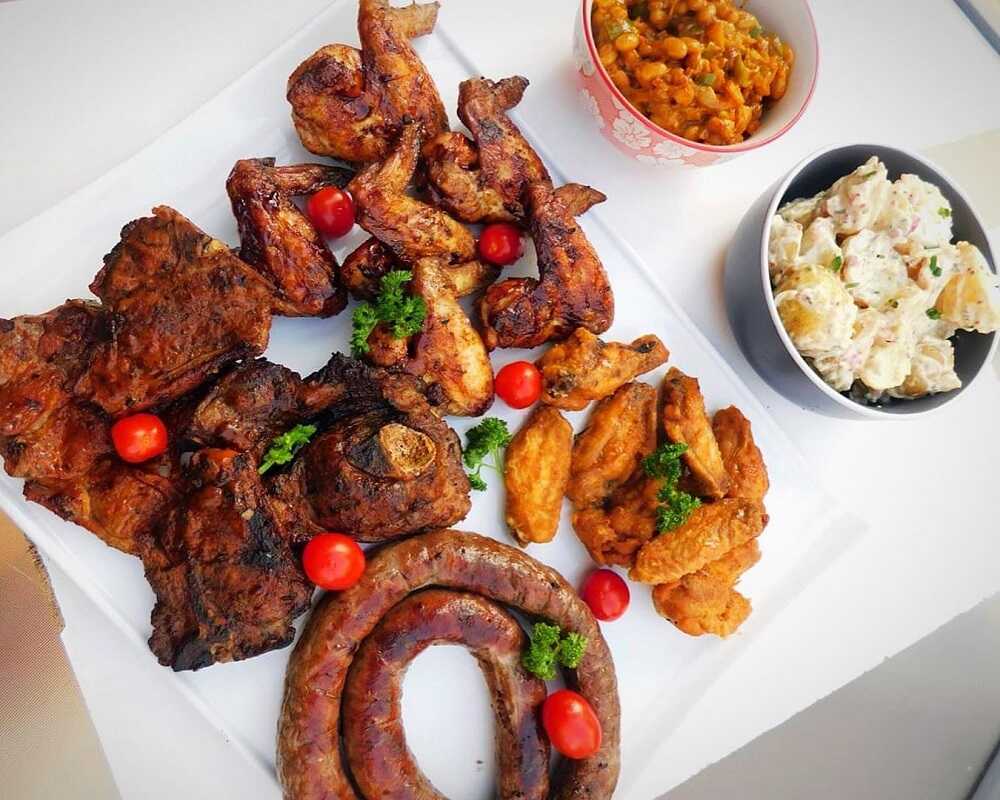 This South African dish is a combination of braaied/barbecued meat and maize porridge. Shisa Nyama is a Zulu phrase meaning "buy and braai". It is very similar to the Nigerian slang "point and kill". You can choose your desired meat and have it marinated and fiercely cooked over hot wood fires.
With shisa nyama, it's not just about eating tasty, braaied meat, it's about who you eat it with. Sitting together with and getting to know like-minded people or catching up with friends. It presents an opportunity to unwind and just be you.
With the right amount of ground cumin, black pepper, cayenne pepper, dried oregano, and salt, you get the tastiest pap en vleis. It can be served along with chakalaka, a spicy tomato, carrot, and bean relish and maize porridge called mieliepap.
#5. B'Stilla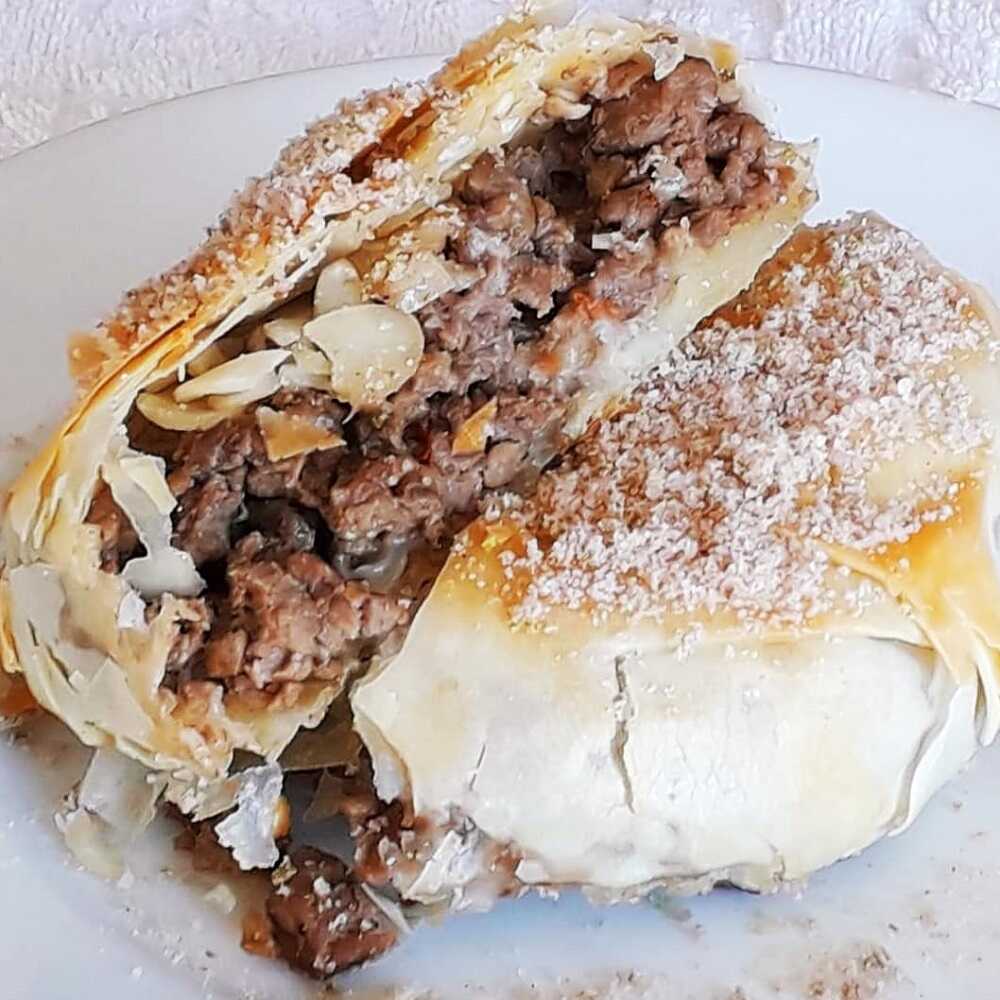 Looking for sweet and savory? B'Stilla is just the right dish, gracing the scenes from Morocco. It's a type of pie interlaced with very thin pastry with spicy fillings in each layer. The fillings are often made up of shredded chicken or pigeon. The chicken is cooked with rich spices and thickened with eggs. Crushed almonds, cinnamon, and icing sugar are all crucial ingredients that contribute to its overall sweet taste.
#6. Koshari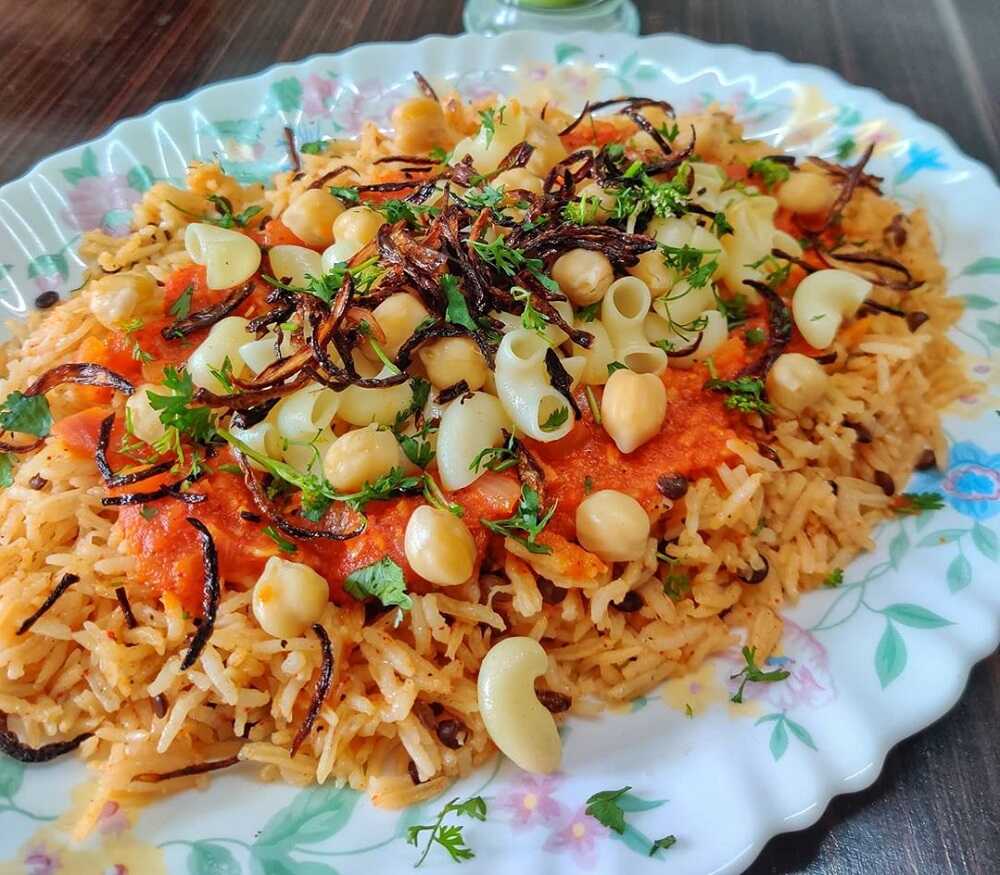 A traditional Egyptian meal made up of rice, pasta, chickpeas, lentils, fried, crispy onions, and tomato sauce. Popular on the streets of Egypt is this comforting, mouth watering dish.
Its best features are the vinegar-spiked tomato sauce and crispy onion rings. Though humble in looks, it uses up every available pantry staple and is very satisfying. This flavor-packed meal is readily available and will certainly leave you wanting more.
#7. Couscous Royale
This is staple dish characteristic of North Africa. You'll enjoy it if the couscous is cooked to the proper degree (not soggy), with the right broth mixture, vegetables, and tender meat.
The broth mixture is often very tasty with garlic, onions, carrots, celery, rutabaga, green and red peppers, tomatoes, thyme, turmeric, cayenne, and bay leaf spicing it up. It also includes chicken and sausages; a truly delightful and well-balanced meal.
#8. Efo Riro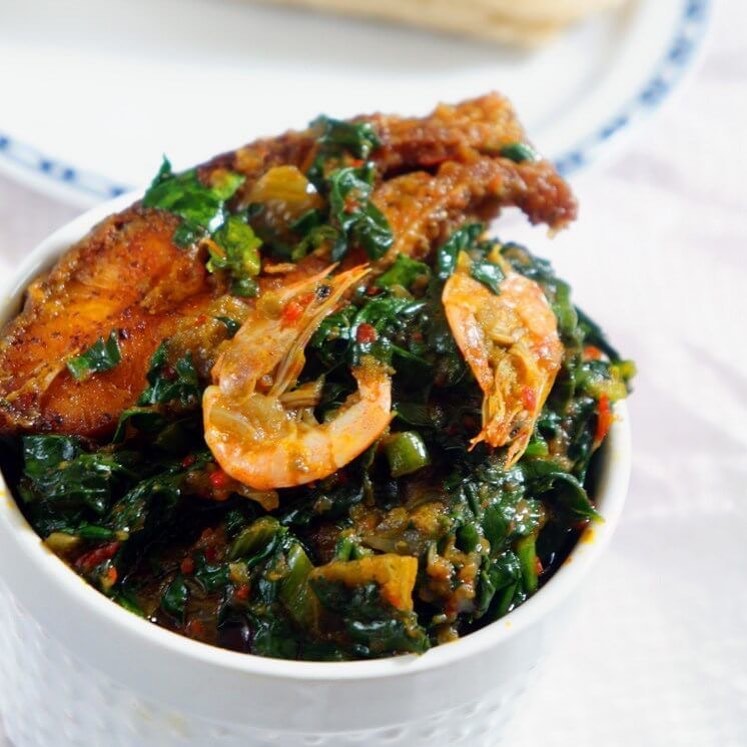 Efo riro is a Nigerian soup made of vegetables, palm oil, onions, stock fish, crayfish, pepper, locust beans, beef, and cowhide. Alternatively, it could include prawns (either smoked, cooked, or both), fried or smoked fish, and lots of assorted meats. It can be served with white rice or local staples like fufu, eba, pounded yam, or any wheat or corn meal.
#9. Waakye
Waakye is a glorified rice and beans meal that just keeps giving. This Ghanaian dish is often eaten for breakfast but can serve as lunch or dinner. It is sure to win your heart with its flavorful toppings of boiled spaghetti, cassava flakes, shito (a hot sauce), fried meat or fish, fried plantain, and boiled eggs.
It might look like too much in one plate but the myriads of feelings it will evoke once you taste it will make you forget your worries. Its characteristic red color is gotten from sorghum leaves used in cooking the rice and beans mixture.
#10. Chicken Kebab
This unforgettable treat of boneless chicken breasts made into sumptuous kebabs is a favorite North African dish. It is often marinated in a blend of cardamom, black pepper, garlic, and yoghurt (optional). It could also be marinated in a mix of vegetable oil, honey, soy sauce and pepper along with garlic and onions for at least two hours.
Can you already imagine the skewers on the grill? It's even tastier than you are imagining!
#11. Okra Soup
Okra is cooked differently in various parts of the world. In Africa, it is cooked either as a whole soup or a part of a soup. The former is often referred to by the Yoruba people of Nigeria as "Ila Asepo" while the latter is cooked plainly with locust beans and served with any tomato stew of choice.
As a whole soup, it is often garnished with any meat of choice (chicken, beef, or goat meat), along with prawns, crayfish, locust beans, smoked fish, and ponmo. If you don't mind its viscous nature, you'll thoroughly enjoy this soup with any choice, local staple.
#12. Yassa
Chicken Yassa is a scrumptious Senegalese meal made of tender chicken and a sweet sauce with lots of caramelized onions served over white rice. It is a finger-licking delight! Its chicken tastes better when grilled. When the rice soaks up this delicious sauce, off you go to cloud 9.
#13. Cachupa
The Cachupa is known as Cape Verde's famous stew. This national dish is made up of finely chopped onions, minced garlic, tomato juice, chicken stock, cut pork belly, green cabbage, diced sweet potatoes, cooked red kidney beans, and thinly-sliced chorizo sausages. It is so delicious!
#14. Boerewors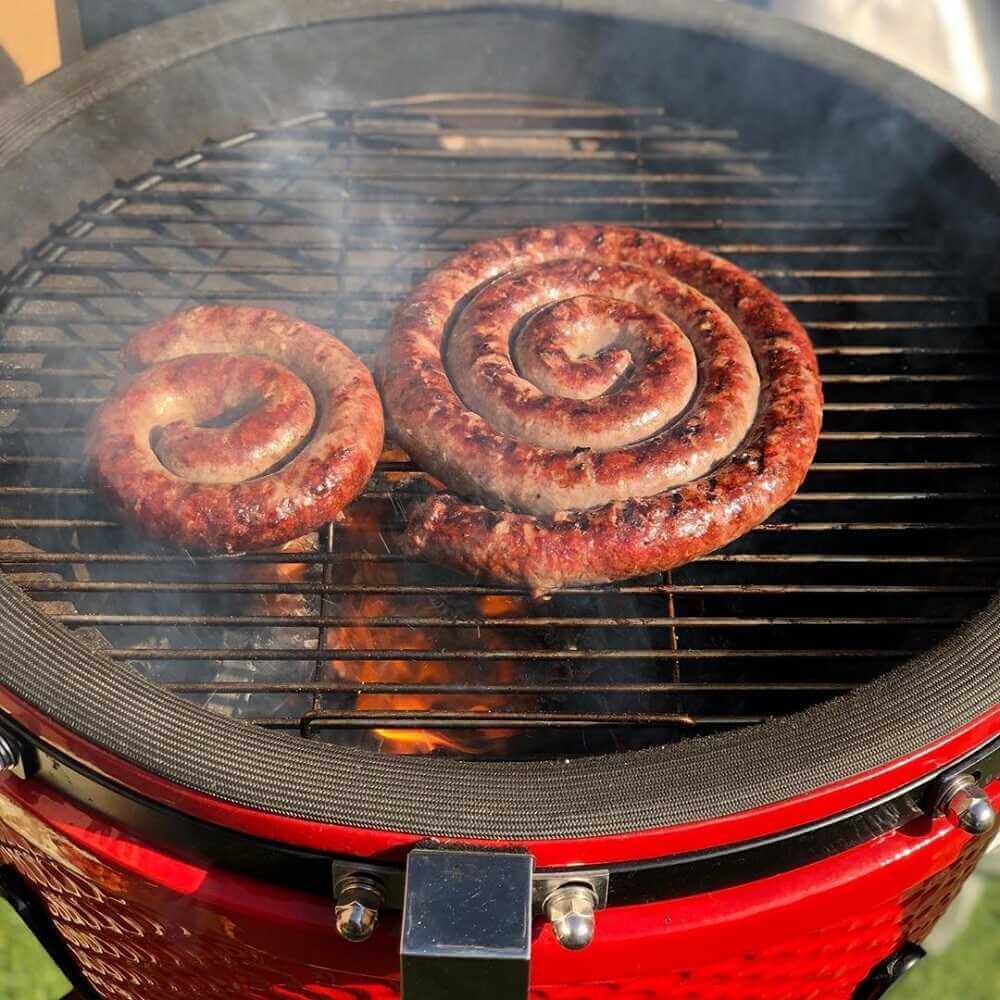 In braai (barbecue) season, the boerewors come out. Boerewors are South African sausages made of minced beef, pork, and lamb, coriander seed, cloves, black pepper, nutmeg, brown sugar, vinegar, and thick sausage casings.
If you're a South African away from home, I'm sorry but not sorry for fanning the flames of that low-burning desire that's presently difficult to satisfy. It is a very tasty and filling meat meal. It is often served with traditional South African porridge.
A local variant you can try is a piece of boerewor in a hotdog bun with tomato, chili, and onion relish.
#15. Sambaza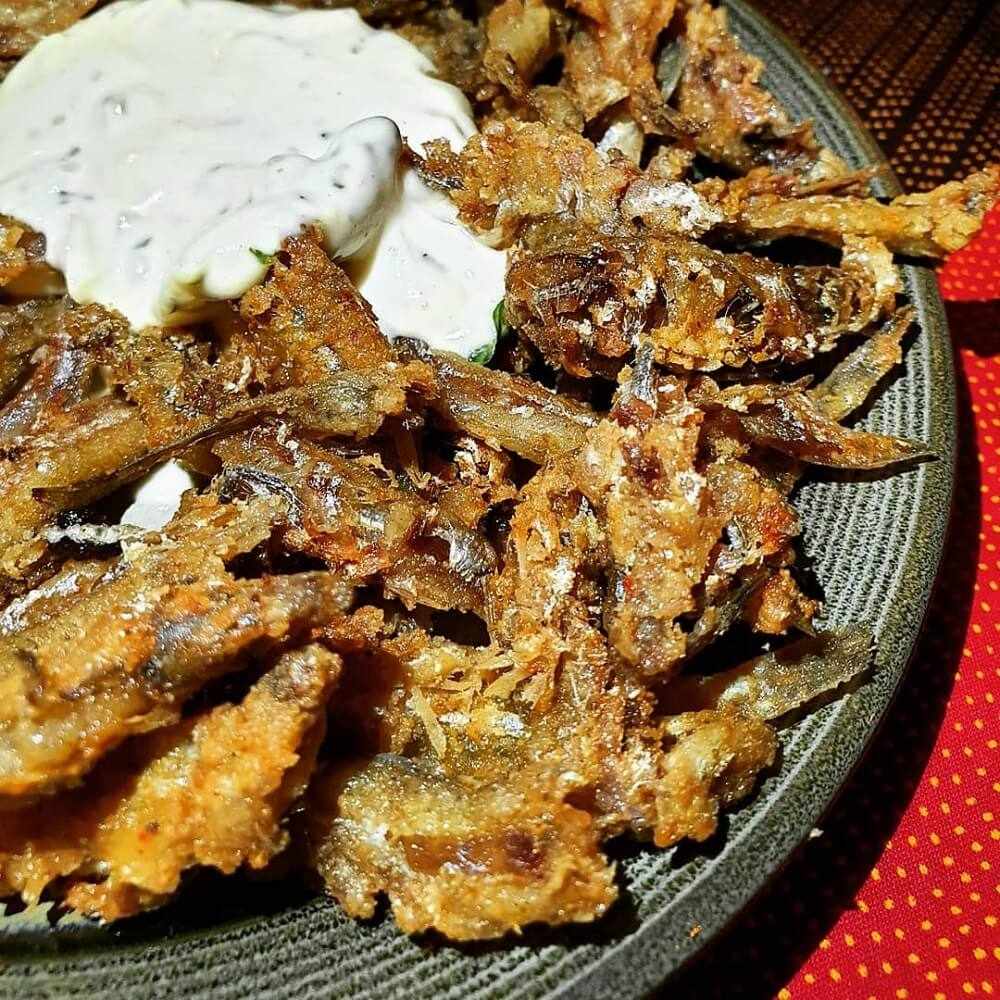 Representing Lake Kivu on the border of Rwanda and the Democratic Republic of Congo is the Sambaza fish. No visitor leaves without enjoying this tasty, salted, deep fried fish served with lemon and mayonnaise. It is often served as a starter or a snack along with cold drinks. Your taste buds will be thankful for the treat.
If reading about these African dishes made you wish to try them, take note of their respective roots and if you're opportune to travel there, do not leave without trying them out. Remember, travelling isn't without relishing every yummy and toothsome meal in your path.
Which of the African dishes listed above have you tried? Share your experience and also let us know of other African dishes you've tried, which are not mentioned on this post.
For free travel vouchers, tips and hacks, be sure to subscribe.