Top 10 Most Beautiful Beaches In The World
Whether you're out for a short vacation, business trip, getaway with your romantic partner or simply seeking new marine destinations to expand your horizon, best believe there are more to see that beats your expectations. For ardent beach lovers, there is no doubt that spending time in and around water bodies has a magical way of rejuvenating the body and mind. From simple activities such as sunbathing, wading, diving, swimming to more complex ones like fishing, snorkeling, cliff jumping, hiking and boat tours, you can be assured of returning a well refreshed,  relaxed and revitalised individual. For starters,  here are the top 10 most beautiful beaches in the world for you to visit and explore.
Related: 10 most Instagrammable places to visit in 2022
1. Hapuna Beach, Hawaii
Consistently nominated by travellers as one of the best beaches in the world, Hapuna Beach defends its reputation by offering visitors a scintillating beach experience. Its pristine white sand, little rainfall, canopic trees, clean environment and nearby resorts makes it even more appealing to visitors. 
Nearby, there are many picnic areas, food vendors, well maintained washrooms and a large parking area. Additionally, it is less crowded compared to other famous beaches.
Activities to indulge include swimming, diving, hiking along trails, boat sails, basketball, Frisbees etc. You can even sit and stare into the endless horizon of turquoise goodness while letting the breezy wind calm your nerves. At sundown, you will get an unbeatable view of the setting sun while relaxing to the warmth of entertainers and fellow tourists.
2. Grace Bay Beach, Providenciales
Located in the northeast coast of the Providenciales,  this beach is the very pride of the Turks and Caicos Islands and often ranks as one of the leading  action destinations by tourists. Remarkable for its silky soft white sand, clean turquoise waters and calm environment,  Grace Bay makes for a picaresque beach you can think of visiting for an unforgettable experience. Fun activities to indulge include swimming, hobie cat sails, diving etc. 
While it is known to be home to coral gardens, fishes and turtles, snorkeling from the beach is not really encouraged as they are too far out in the ocean. However, interested tourists can sail out on boats to get the best of their time. Indeed, Grace Bay beach is as graceful as its name implies.
3. Bora Bora, French Polynesia
if you are an active instagram user, then you most definitely have come across pictures of houses erected on stilts over water which is symbolic for the 'paradisic Bora Bora' as popularised by bloggers.
Located on the south Pacific Ocean, this Polynesia island often ranks as one of the most beautiful in the world. Activities to keep you entertained and occupied are inexhaustive. You can decide to sunbathe while reading a good book, swim with the dolphins, fish, sail, jet ski, scuba dive or go snorkeling. You can also go hiking and climbing the Mount Pahia trails all around but you must take care and go in groups or with someone who is already familiar with the island. Helicopter tours are also made available for tourists who desire to get an aerial view of this beautiful island.
4. Reethi Beach, Maldives
Also known as Fonimagoodhoo,  this beach is one out of about 12 tale – like beaches in the beautiful Maldives. The long stretch of fine white sand, bent coconut trees, deep turquoise water, luxurious bars and resorts in addition to its serenity makes it more of a love island perfect for honeymoons and romantic getaways with the significant other.  Things to do include swimming, jet skiing, snorkeling or relaxing to an exotic spa in one of the resorts.
While at Reethi Beach, be sure to get that instagram worthy photo in this picture – perfect island as a reminder for you to come visit again.
5. Boracay, Philippines
This tropical island covers about 11sqkm and has 17 beaches within. In Boracay, a wide range of activities such as cliff jumping, trail hiking, kayak adventures,  parasailing, surfing,  surfing, snorkeling, fishing and more awaits you.
With a verdant vegetation dominantly occupied by banana and coconut trees, this island leaves nothing out of what mother nature offers. For hiking and climbing lovers, head over to Mount Ludo which prides itself as the highest peak for a divine aerial view of the island and a chance to behold tropical birds, monkeys and the spectacular Tasmenian devil.
6. Siesta Key Beach, Florida
This beauty located along the golf of Mexico once ranked as the Number 1 beach in the entire United states of America. Brilliant eh? Famous for its quartz – crystal sand, blue waters and extra beachy amenities, Siesta Key Beach takes the bar to a whole new level by offering her visitors a paradise island experience. Fun stuff to enjoy include swimming, Frisbees, hikes, sunbathing and not to forget -snorkeling.
Around, you will find several bars, lounges and restaurants with deluging delicacies. At twilight, performers are made available to entertain and help you unwind. However, should you prefer some moment of respite, you can wander to the surrounding neighbourhood where you can find a cafe to relax to a lone cup of tea or coffee.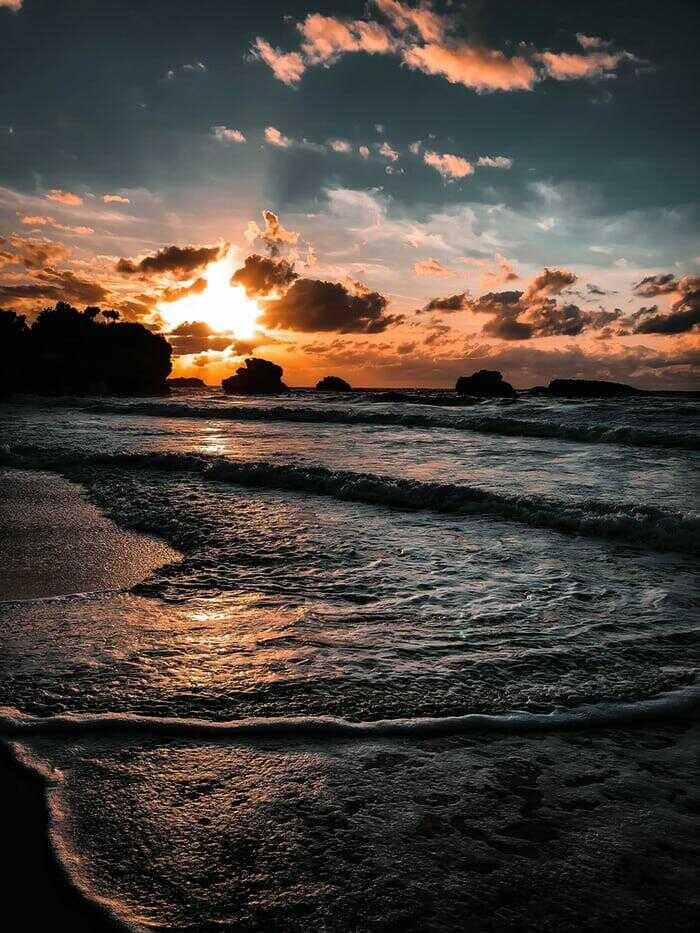 7. Turquoise Bay, Australia
Going by its name, turquoise bay makes for a perfect spot for tourists looking to see some aquatic creatures. Notable for its crystal clear waters and abundance of corals and other marine life forms, one cannot be less stunned by the beauty it holds to share. While most visitors prefer snorkeling among other activities because it offers them a great opportunity to get a view of what's below the surface, you can go on boat tours to enjoy a great view of the sea. 
For the best snorkeling experience, head over to the south side of the bay where the current flows down north to begin your adventure. From here, you will be marvelled by the breathtaking richness of the reef known to accommodate thick coral gardens, fishes, turtles and harmless sharks.
8. Tulum, Mexico
Tulum is a natural beauty located along the Yucatan peninsula.  From being a little fishing town, it has metamorphosed to a popular tourist destination.  This ancient Mayan historical site has all the natural marine beauty you can think of. Places to visit include El Castle,  The Temple of the Frescoes, Gran Cenotes , Sian Ka'an Biosphere Reserve, the ruins of Coba,  jungle gyms etc. You can go diving, swimming, cliff jumping, hiking and boat tours. 
In Tulum, Ancient meets modernity and it remains a front contender with other beaches in terms of natural beauty.
9. Copacabana Beach, Brazil
Fantasising about a wide, sandy, vivacious and famous beach to visit? Copacabana is the answer! This Brazilian beach presents a beautiful blend of traditional and modern concepts for tourists to enjoy. From the nearby pubs, restaurants, street fairs to the delicacies and people from all walks of life teeming to get a 'piece' of this beautiful beach, you can be certain that there will be no dull moments during your visit. Although most people consider it to be rowdy, I'd say what's a beach time without a little bit of noise and laughter from fellow visitors. 
As a recommendation, do not forget to drink the Caipirinha before you leave to seal up the Brazilian vibes that you have been loaded with.
10. Nungwi Beach, Tanzania
On a visit to Zamzibar?  Then Nungwi Beach is a must see for an African tropical experience.
Among many things, Nungwi is blessed with a large stretch of clean deep turquoise waters, white beach sand, accommodating and friendly locals, lively and less stringent regulations for tourists to thrive. Most popularly talked about is the swimming advantage it presents over other beaches in that even in low tides, the water still remains safe for swimming. However, this can be a bit of a challenge to take boat tours as swimmers are always occupied doing what they love.
Recommended: here are 7 reasons why travelling is good for your mental and physical health 
Wrap Up
of course, this is not an exhaustive list of beautiful beaches that you can decide to visit. Therefore, don't just scroll, take action. If you love it, you can live it. You can treat yourself to a wonderful beach moment. Send a message today let Urban Normads take you there!
For free travel vouchers, tips and hacks, be sure to subscribe.