The ultimate guide to living and working in Turkey
The first thing that comes to my mind when I hear about Turkey is its geographical place. Although Turkey is neighbours with some troubled Middle Eastern countries, it's in the best part of Europe — not rainy or cold like Germany, France, or Norway, not sea-less like beautiful Hungary or Switzerland. The Mediterranean part is the best part of Europe in terms of climate. Turkey has the Mediterranean sea just like Italy, it also has the Aegean sea, the Black sea, and the Marmara sea. (Can you tell I love the sea?) She is one of the most diversified countries in the world in terms of worldviews, political views, religion, socio-economic differences and even physical features of people. So, we will have to narrow down the question to some specific locations.
Editor's Note: Istanbul is a must-see city in Turkey. Here's an extensive list of the best things to do and see in Istanbul.
7 Things to Know About Living in Turkey
The first thought that comes to our minds is Istanbul, when we hear about living and working in Turkey, right? It is the most developed city in Turkey with lots of job opportunities and leisure activities. 70-75% of the population are from the Turkish tribe, while 19% are Kurds.
Although it is a beautiful city with an important geopolitical position, historical importance, and many places to visit, It's just too crowded. No matter how rich or educated you are, life in Istanbul could be difficult. Traffic congestion, crime rate, and expensive housing prices are just a few of the problems in Istanbul. "Traffic congestion" might be a minor problem for many, especially if you are coming from a busy city, but imagine that you spend 5 hours every day commuting from home-workplace-home. How would that feel? That's how many people live in Istanbul, apart from the lucky few who live in places very close to their workplaces. Below, we'll walk you through key points about:
1. How to Obtain Turkish Citizenship
There are a few ways of getting Turkish citizenship as a foreigner. The usual course is to study in Turkey and then get hired by a Turkish company that will give you a residence permit in Turkey. After some years, you will be eligible to obtain Turkish citizenship. To obtain Turkish Citizenship, you can qualify under 3 separate criteria. Investment, Marriage, or Residency.
Investment: If you invest a certain amount in real estate, you can get your Turkish citizenship by;
Purchasing any property [Land, Building, Hotels, Villas, Houses. etc] or Property Fund.
Amount: 250,000 $ and above.
Duration to get Nationality: 90 Days Approximately.
Condition: Customer can't sell his property in 3 years. It will be under a mortgage by the DEED institution.
Marriage: Article 16- (1) Marriage with a Turkish citizen is not a direct reason to gain citizenship. But, married foreigners to a Turkish citizen for at least 3 years and still married may apply for citizenship.
The candidates must;
Live together in a family union,
Not conduct any activity that is contrary to the union of marriage.
Not be in a state that will pose a threat to national security or public order.
Residency: This requires that you have lived/worked 8 years continuously in the country and you are a "decent person" not getting up to any anti-social, immoral, or illegal activity. Also, if you work in a more helpful profession, getting Turkish citizenship will be easy.
2. Turkish Way of Life (Lifestyle & Culture)
The cultural life in Turkey is quite rich. Though we cannot compare it to Paris or New York, a lot is going on, both at the high culture end and the bars and bands end. The Turks, or the Turkish, have good hospitality and tolerance attitudes. When you go to a Turkish person's house as a guest, you're treated like a queen/king. There are a bunch of fresh foods on fancy plates that the homeowner has reserved for guests. It wouldn't be unusual if the homeowner gave you their bed and took the couch themselves. "You're a guest," they say in Turkey to explain the gesture. Turkey is a secular country, which means there are other religions aside from Islam. Istanbul and Izmir are the two cities that are NON-RELIGIOUS areas. Turkish people love outsiders and respect other people's cultures.
Adapting to their lifestyle and culture is one of the difficult things to get used to for a non-Turkish person. Again, this depends on the city you live in. They divided Turkey in two with a very sharp line. 50% of the population live entirely different lives than the other 50%. Cities like Yozgat, Konya, Sivas -basically any city in the Anatolian or Eastern region are conservative because older people stick to traditions. It is impossible to change or even question their beliefs about how things should be done as a young person. If you live in cities with a more liberal, open-minded and modern view (Ankara, Istanbul) and educated people to surround you, you will be fine. You will have total freedom in your life. Here, people don't care about what you do, what you wear, who you marry, what your religion is unless your freedom crosses theirs. Neighbourhoods in Turkey are small communities where everybody takes care of each other.
3. Language
Turkish is a rich language, but learning it could be difficult. So if you are a foreigner living in Turkey, life might be difficult for you in the first couple of years. Many Turkish people in developed cities speak English, some of them also speak other languages (German, French, Italian, Spanish, Russian) but don't expect your local shop owner to know more than a few basic words. As a tourist, it's no problem because somehow Turkish people know how to get along with foreigners. However, if you decide to live in Turkey for a long time, it might be good to learn Turkish today because you'll need it at some point.
Now, if you live for example in Nisantasi or Bebek, two of the richest neighbourhood In Istanbul, and if you work in the finance sector, you should be able to find English speakers relatively everywhere but with certain limits, like administrative tasks (administration employees foreign language skills are incredibly low, the worst being the police, which can be an issue). And business-wise, if I mentioned the finance sector, it is because seriously a lot of top managers in large companies do not speak English (It will surprise you) except for the banking sector, where almost all the executives do. So my answer would be to learn Turkish. It is a very interesting language and learning languages is a very healthy activity for the brain. Turkey's currency is Lira.
4. Best Turkish Cuisines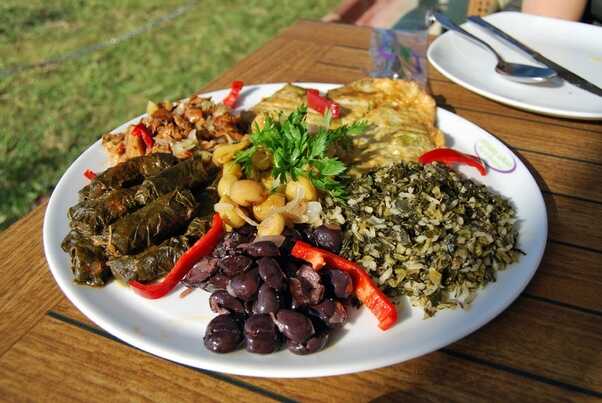 People from other countries know kebab and baklava ("kebab" in Turkey). They are just a small part of Turkish cuisine. It originated from Eastern Turkish cuisine.
Turkish cuisine offers much more than kebab and baklava. Every region of Turkey has its speciality. As the Ottoman Empire interacted with many cultures and races, Turkish cuisine got various dishes from all around Europe-Asia-Africa. So, it's a mixture of everything. Eastern Turkey cuisine is based on meat and poultry, whereas western Turkish cuisine is based on vegetables, olive oil, herbs and fish. Northern and Southern cuisines are also different and all of them are delicious. For alcoholic beverages, there are several high-quality Turkish wine brands, but the most popular drink that has come out of Turkey is, of course, Raki- pronounced rah-KUH. (a.k.a, Lion's Milk)
5. Top Tourist Destinations in Turkey
To experience Turkey as a tourist or a resident, you need to be in one of the big and modern cities. Theatre plays, any sports, hiking, fishing, horseback riding, nightlife, museums, festivals, free seminars, free continuous education programmes…. You name it.
There are also lots of parks and green areas in developed cities where people take a walk. They have built cycling lanes in the last years for cyclists and people who commute to work with bicycles.
The best part is the geographical location of Turkey. If you live in coastal cities such as Izmir, Muğla, Antalya, you can have a vacation every weekend from spring to autumn because it is around 30-min to 1-hour drive to beaches. Beaches in Turkey are some of the most beautiful in the world.
There are tons of historical places to visit all around the country. I still have many places to visit in Turkey on my bucket list.
In brief, you will never get bored in Turkey.
See also: Visit Cappadocia: A Travel Guide
6. Health Care System in Turkey
The state covers all your medical bills in case of an emergency. About 80% of your medical bills are covered by SGK (Social Security Institution) depending on your medical condition. SGK covers all citizens of Turkey. There are "family doctors" assigned to every family, and for basic health issues. (fever, diarrhoea etc) You can walk into their office without an appointment and get treatment for free. Even many Turkish people don't know this, but you can also have blood tests and analyses, smear tests and various other tests for free when you go to your family's doctor.
Many hospitals have high-quality equipment and Turkish doctors are very good in their profession. If you have to undergo a serious operation like heart surgery or brain surgery, you don't need to worry that you'll go bankrupt. Even if you have a surgery that SGK does not cover, your medical bill will not be extremely high (Compared to the USA).
Only if you have a very rare health issue (one in a million types) you may have financial difficulties as the treatment may get very expensive, because SGK rarely covers these types of health issues.
Related: Top-10-medical-tourism-destinations-for-Nigerians/
7. Education System in Turkey
Does Turkey have an excellent education system, you might ask?
State schools are free in Turkey. State universities' annual fees will not hurt your budget if you are from the middle class (most of them are in the $500-$1000 range, excluding medicine faculties). So if you would like to study in Turkey, you can go as far as getting a PhD at a tiny cost (compared to American universities).
Education quality has significantly decreased in the last 15 years (guess why) for most of the high schools, yet there are still many high-quality schools maintaining their education quality. They have opened new universities in the last 10 years, though most are ranked low because of their inability to educate students. So, education at most universities, regardless of their status (state-private), is poor in Turkey.
However, if you get into one of the better ones (Koc University, Bogazici University, Bilkent University, METU etc…) then you will get a world-class education.
For example, I have a friend who got both of his undergraduate and doctoral degrees from a private university in Izmir. It is one of the good universities in Turkey. The reason they rank Turkish universities lower than well known European, Chinese, Japanese and American universities is Turkey does not provide enough funding for research. I won't mince my words. However, even though the domestically conducted research at the academic level is limited, education is world-class at better universities. I've got lots of friends who pursued their masters and doctorate studies at the very best universities in the world (Harvard, Oxbridge, LSE, Stanford, Yale, MIT, UC Berkeley…. etc) after studying in Turkey.
How Can I Find a Job in Turkey?
To find a job in Turkey depends on what your occupation would be and where you would live. Importantly, you need to speak excellent Turkish, but few Turks speak English or Arabic and most of them do not speak well. They restrict certain jobs in Turkey to foreign citizens, like working in hospitals or legal offices. (Pilots were in shortage before the pandemic) Based on your language skills, you might easily find a seasonal job in the tourism and hosting industry. However, you require better qualifications than the Turkish citizens in order to have a permanent job in this sector. Qualified English language teachers, preferably native English speakers, are also in demand in Turkey. If you have certain outstanding skills, then they might recruit you in the other areas as well. You must check the head hunters, recruiting sites or apply to each company individually.
In Turkey, unlike Australia, it's very possible to afford a home eventually even with a standard wage. In Sydney, you're looking at $700,000 (1.8million TL for a very average home). In Turkey, with an income of 3x less, the homes only cost about 200–300,000 TL, making it quite affordable. If you also have a network of friends in Turkey, that would help you as well. (Shared apartments)
What Jobs are in Demand in Turkey?
There are many job opportunities in Turkey waiting for job hunters to explore. With the help of this article, I am sure a certain number of job seekers will find jobs online. Here is a list of 13 of the most in-demand jobs in Turkey, including:
Textile
Mining
Automotive
Food processing
Chromate
Steel
Electronics
Tourism
Petroleum
Construction
Copper & Boron
Lumber
Paper
Related: Migration-options-for-unskilled-labourers-in-Nigeria/
9 Best Job Search Websites in Turkey
These job sites listed below will help you in your search and possible employment in Turkey. There are so many Turkish jobs available on these sites waiting for job hunters. As a job seeker in Turkey or planning to work in Turkey, you should not hesitate anymore to begin your search. You never can tell your dream job is just a few clicks away.
Below are 9 Job sites to register for Turkish jobs;
Wrap Up:
By now you might ask, which city should I settle in? Istanbul or Ankara? Istanbul, as I mentioned earlier, is a very busy city. If you have a reasonable amount of money, you can buy or rent a very nice apartment in one of the more fashionable parts of the city, which is certainly not the case in Istanbul. And of course, it's a very safe city, except for the traffic. As for the people, Ankara, its capital, has grown so big and cosmopolitan that it's hard to generalise – you've got a pretty representative cross-section of Turkey as a whole. It has a very high student population, though, which most people would count as a good thing. So really, it depends on what your alternatives are. Go to Istanbul if either
(a) You're a backpacker looking to spend some time experiencing Turkish culture,
(b) You have a well-paid job that provides accommodation within walking distance, or you're a Russian oligarch.
(c) Go to Izmir if you like to party.
(d) If you're not tied to your place of work, live somewhere small and laid-back, like Kaş or Ayvalık.
Otherwise, Ankara is not a terrible choice. If you pick the right city, have a good job which puts you in the middle class or higher -or have savings enough to last your lifetime-, have a good education, you can live in a mainly collectivistic culture, then you will love Turkey. (apart from politics, that is a whole other subject). However, life is much more relaxed in cities like Antalya, Izmir, Muğla, Gaziantep.
Migrating to another country whether to study, live or apply for work can be very daunting, that is why Urban Nomads is here to guide you in every step of your migration journey. Subscribe to the Japa Membership plan and have exclusive access to a travel expert who will be excited to help you on your Turkey migration journey now!
For free travel vouchers, tips and hacks, be sure to subscribe.