7 days itinerary in Seychelles
Seychelles is no doubt one of the most beautiful destinations on earth. We know it for its beautiful islands, lush, dramatic landscapes, un-spoilt nature, powder-soft white sand and crystal-clear turquoise water; this is Seychelles, wild, rustic, and unapologetically raw in its natural charm.
Seychelles is an archipelagic island country in the Indian Ocean at the eastern edge of the Somali Sea. It comprises 115 islands, of which half of the islands are inaccessible and uninhabited. Seychelles' natural elements and tropical nature have attracted travellers for centuries. It's also believed to be the top list of lovers' destinations for a romantic getaway. Seychelles is a visa-free country.
Related: Top 5 VISA-FREE destinations for Nigerians
Top-Rated Things to Do and Must See in Seychelles
Where to Stay in Seychelles
Top-Rated Things to Do and Must See in Seychelles
With little ado, there are lots of things one can do in Seychelles, and we know planning a trip could be difficult. That's why this article will make your trip to Seychelles smooth and fun-filled. Below, we will talk about how you can experience Seychelles in a week, focusing on the 3 popular islands that tourists visit. Mahe, Praslin, and La Digue.
Day 1: Mahe Island – Explore Victoria City
Mahe Island, pronounced 'mahé', is the largest island in Seychelles. It is where most of the local population lives. Also, it is the administrative centre of the country. This island is home to a few national parks as well. You can start by exploring Mahe Island first as there is a lot to see there. If you only have one week, then you will need to choose between North Mahe and South Mahe. Can I suggest North Mahe to you?
1. La Misere Viewpoint
La Misere Viewpoint, one of the most scenic viewpoints on Mahe, gives you an unobstructed view of the Eden islands. As this viewpoint is at a height, you will also see the entire Victoria city sprawled out in front of you. This viewpoint is a little away from the city, so it is quiet and you won't find too much crowd here so you can enjoy the view peacefully.
The La Misere viewpoint comes on the road to Port Launay from Victoria city. So, you can get a bus from Victoria which is heading to Port Launay via Plaisance road. Ask anyone at the bus stop and they will route you to the correct bus. The viewpoint is just 5 km from the bus stand, it will take you around 15 to 20 minutes to reach. After reaching there, you can enjoy some time at the viewpoint and then head back to Victoria for a delightful meal.
2. Seychelles National Botanical Garden
A century ago, the National Botanical Garden was created, and it is on the tropical outskirts of the capital. The garden stands as one of the oldest national treasures of Seychelles, extending across 5 acres of undisturbed flourishing plant species. Here, you get to walk beneath the shady canopies of rare palms, observe the spice and fruit trees, and snap photos of the vibrant palette of native orchids. Keep an eye out for the gardens' Aldabra giant tortoises, which can live up to 150 years. A convenient cafe offers welcome refreshment amidst rainforest scenery.
The Garden is open every day of the week from 8:00 am and closes by 5:00 pm. This is surely a place you wouldn't want to miss on your tour in Seychelles. The Giant Tortoises are my favourites.
3. Victoria City
In the evening, you can start by exploring Victoria City, which is also the capital of Seychelles. The British government established the city to control this island nation and is quite known for its exports in vanilla, coconuts, fish, and coconut oil. It is a national landmark, built in 1940. With magnificent Victorian-style architecture, it is truly unmissable for tourists.
Though a capital, it is one of the smallest of them in the world. Therefore, you can explore Victoria on foot. The city is lively with rustic culture, buildings, music, tons of shops with fresh produce, fruit, spices, fish, and meat. Also, you will find lots of crafts and souvenir shops. It is a very colourful place. So, don't forget to bring your camera along!
Start your tour by walking from the Victoria bus station to Market Street, just 100m from there. Here, you can tour the vibrant Victoria market and even buy brightly coloured fish. From the market, walk to Albert Street and for about another 400m where you will find the famous Victoria Clocktower. They based this clock tower on the model of a London clock tower, Vauxhall Clock Tower, and is one of the major attractions there. After that, you can head to the National History Museum where you will learn more about Seychelles' past.
If you aren't interested in the museum, you can just walk around and explore the city on your own.
4. Sunset Beach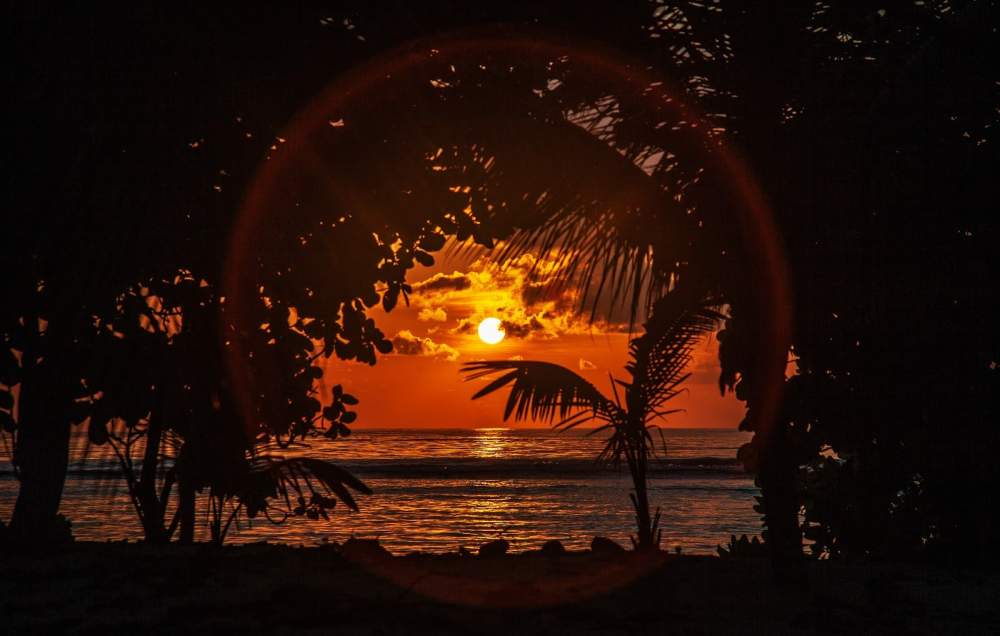 Once you've finished exploring the Market, head back to the Victoria Bus Station and take the bus to the Sunset Beach Hotel. For this, you will need to take the bus to Glacis and then get down near the Sunset Beach Hotel.
Why this place?
Well, because the Sunset beach offers the most gorgeous sunset view of the entire Mahe Island. This small beach beside the sunset beach hotel is quite secluded and has few people around. So, you can relax and lie down on the beach and watch the sun going down. Trust me, this is the right spot if you want some beach time away from the crowd and if you are a sunset lover like me, then this place is a bonus for you!
Day 2: Mahe Island- Morne Blanc's VIewpoint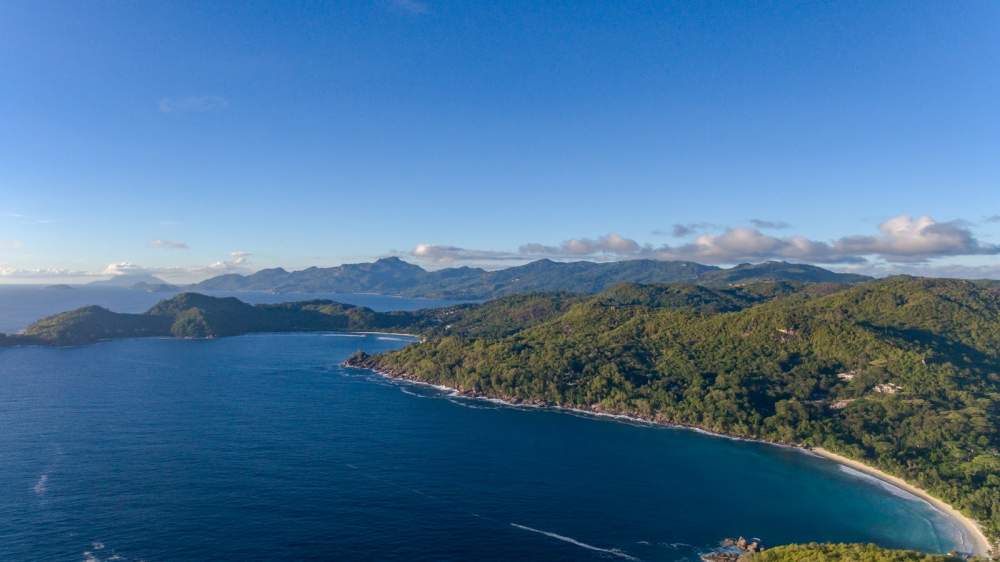 Morne Blanc's viewpoint on Mahe Island is one of the incredible places to visit in Seychelles for a stunning view. After your first day, I guess you would love to jump out from your bed to explore the city more. It's Day 2; let's go for a short hike to the highest point in Mahe, Morne Blanc's Viewpoint.
Take a bus from the Victoria Bus Station to Morne Blanc Trail, starting point on the Sans Souci Road. Once you are at the starting point, you will have about a 1-hour hike through the forest. The hike is through the famous Morne Blanc National Seychellois Park and is easy enough to do without a guide. After reaching the top, the stunning view will blow you away. There, you can easily see the entire west coastline of Mahe Island.
Spend some time on the top, eat some snacks, and rejuvenate yourself. Head back down, which will take you about 45 minutes. Then, you will need to wait for the bus as there is only one bus leaving from this route in an hour. Please, pack ample food and water as there are no shops around.
Beau Vallon Beach
A bus can reach Beau Vallon, one of the most popular tourist spots in Mahe. Beau Vallon has a long beach packed with tourists in hotels and resorts. It is another suitable spot for watching sunsets in Mahe. You can take a walk on the beach or the street and enjoy some local food and souvenir shopping.
If you are interested in water sports, then this is where you will find a few Scuba Diving centres. You can easily spend the entire evening here, relaxing and lazing around on the beach. After, do well to treat yourself to some delicious Creole dinner in one of the food stalls or restaurants there.
Note: If you don't have a private vehicle or if you don't stay here, then you would need to leave by 6.30 pm. This is because the last bus leaves for Victoria city and you don't want to miss it.
Day 3: Mahe Island-Port Launay
Port Launay is another amazing place to visit in Mahe which is not as crowded as other parts of this island and this is a major watersports hub as well. So, you can do kayaking, boating when you arrive and enjoy the morning splashing around in the crystal clear water.
To get to Port Launay, get a bus from Victoria Bus Station which will take about one hour. There is a bus leaving and reaching there every half an hour, so you won't face a lot of trouble while returning as well.
Day 4: Praslin Island- Fond Ferdinand or Have a Five in Curieuse
Visiting Praslin Island (pronounced 'prawleen') is one of the amazing things to do in Seychelles. I love to call it the Dreamy Island. Don't ask me why. Why don't you wait until you get to experience it yourself?
In Praslin, you can start by taking a tour of the famous reserves there and learn about the native fruit, Coco De Mer. You can either go to the Vallee De Mae National Park, which is a UNESCO Heritage site, but take note, it is quite small and pricey.
1. Fond Ferdinand
Fond Ferdinand is a better alternative to Vallee De Mae National Park as it has more Coco De Mer plants and costs just 125 Seychellois Rupees. In Fond Ferdinand, they will take you on a short walk and give you information about all the native plants, insects, and birds on the way. You'll learn about the vanilla plant and how vanilla is extracted, as well as how the germination of Coco De Mer works. It is a four-hour tour in which they take you to a viewpoint to see the coastline and the surrounding islands. Honestly, it is a lot of fun and one of the top things to do in Praslin.
2. Have a five in Curieuse
You could also take a tour to Curieuse Island, which is a small granitic island that is spread over an area close to 1.13 square miles in Seychelles. It is located close to the northern coast of the island of Praslin. This is very much famous for its bare red earth that is intermingled with unique Coco de Mer Palms.
This place has turned out to be one of the cultural icons of Seychelles. Curieuse island offers an unspoilt wilderness and popular photo opportunities for tourists with outstanding granite rock beaches and Coco de Mer Palm trees. You can as well treat yourself to a BBQ lunch on the beach amongst the giant tortoises, which is the chief attraction of the island. This is one of the most exciting trips of a lifetime – to be amongst the giant land tortoises in the wild!
3. Anse Georgette Beach
In the evening, when the sun is setting, head to the most beautiful beach on Praslin Island, Anse Georgette Beach. Take a bus to the Constance Lemuria Hotel to get to this beach. One thing to remember, you will need to ask for a slot to enter the beach from the hotel. There is no entrance charge, but you may stay for an hour. Anse Georgette beach is a beautiful beach and you have to cross the hotel's golf court to reach it, and once you reach the beach, just lay down and enjoy the clear blue skies and the surrounding vegetation.
Day 5: Praslin Island – Cousin Island
This is one of the best parts of exploring Seychelles. You get to swim or snorkel with hawksbill turtles around Cousin Island.
This is going to be a day tour because it is a five-hour-long trip, which usually includes lunch. Cousin Island is perfect for birdwatchers and nature lovers. It is the home of some endemic animals and plants and one can also find the almost-extinct Seychelles Warbler here. Since this is a protected island, you can only visit this island during the weekend, so make sure you plan your trip carefully.
This is also a nesting ground for hawksbill turtles.
Day 6: La Digue Island- Veuve Reserve
It's our 6th day in Seychelles! Yay! Dress up and tour the amazing La Digue Island!
In the morning, take a ferry from Praslin Island to La Digue Island, which will take only 20 minutes. If you are an onithorphile, then these reserves would surely complete your day.
Veuve Reserve
Start your day by taking a walk in the Veuve Reserve. This is where you might catch sight of the Seychelles native endemic bird, the Black Paradise Flycatcher. This small forest reserve shelters multiple pairs of these flycatcher birds. An interesting fact about these birds is that male and female birds have unique designs. Male birds have a long black tail feather while female ones don't.
Apart from the flycatchers, you will also find other species, like fruit bats and terrapins. The entrance is free, and the reserve is open every day from 8 am to 4 pm.
Day 7: La Digue Island- Explore Anse Source D'argent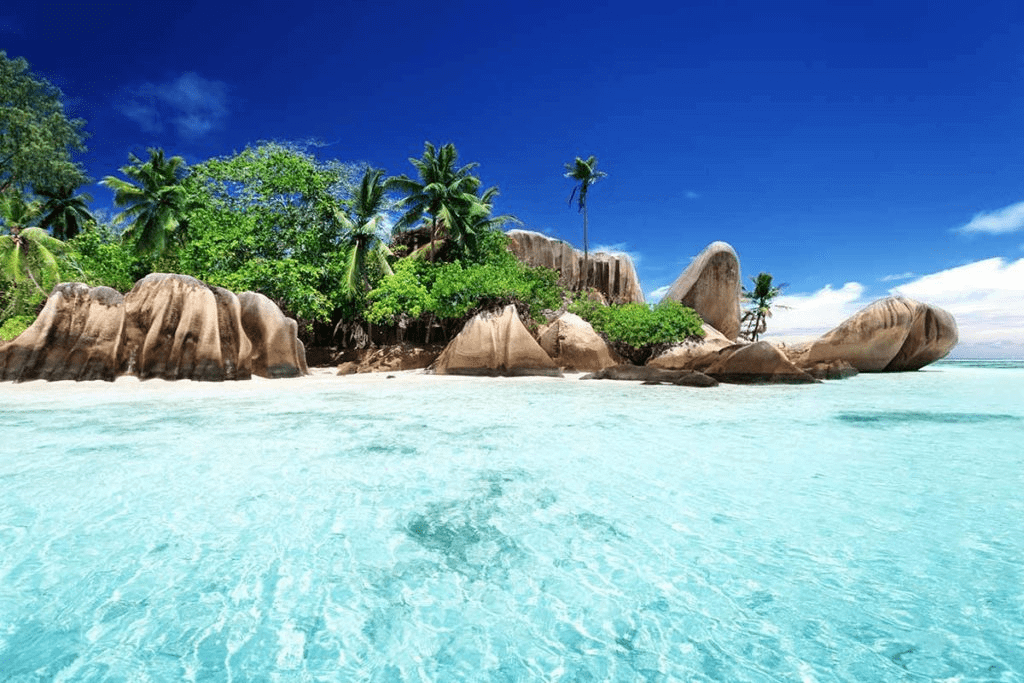 It's our last day in Seychelles and it is the perfect time to discover the stunning beauty of Anse Source D'argent beach on La Digue Island. You know something with the saying "save the best for the last".
Since you have the ticket for the entire day, I will suggest you visit the beautiful Anse Source D'argent beach in the evening.
The beach is crowded with day-trippers during the daytime, so if you want to enjoy this beach peacefully, then it is safe to visit during the evening. The enormous boulders surrounding the beach are a beautiful backdrop for the photographs. There are food stalls near the cycle parking area and lots of souvenir shops. In the morning, you could just stroll around and get one or two items you could have missed during your tours before spending your evening at the beach.
Don't forget to have fun, acquaint yourself with the locals, and make new friends, for these are what travelling is all about.
Depending on your flight timings, take a ferry from La Digue to Mahe. This will take around 2.5 hours as you will need to change the ferry to Praslin Island. After reaching Mahe, you can head to the Victoria Bus Station and get a direct bus to the airport. Au revoir!
Where to Stay in Seychelles
Honestly, there isn't any place to stay in Seychelles. You can book accommodation anywhere since most of these islands are small.
MAHE ISLAND: If you stay in Mahe, choose a hotel or self-catering apartment in Beau Vallon or Victoria City close to a bus station.
PRASLIN ISLAND: Here, you can stay anywhere, as there are only two bus routes here. If you want unlimited access to the Anse Georgette beach, then I would suggest you stay at Constance Lemuria Hotel.
LA DIGUE ISLAND: On La Digue, you can stay anywhere as the island is 5 km and 3 km wide. So, it doesn't matter at all.
Wrap Up
With so many things to do in Seychelles, this perfect Seychelles itinerary is achievable even if you're travelling on your own, but you will agree with me, having a group tour can be more fun. If you are travelling alone, the best time to visit Seychelles is during winter, which starts from May to early September. Also, you can pay in GBP, USD, and EUR in Seychelles. Be careful, exchanging currency with unauthorized people is strictly prohibited and punishable in Seychelles.
Here at Urban Nomads, there is a travel package (Experience Seychelles with WakaWaka Doctor). A 6 days group trip to Seychelles in September where you get to experience Seychelles to its fullest, Snorkelling, Boating, including trying out their local cuisines. Also, you get to spend a night at Addis Ababa, that's us giving you two fun-promising experiences in one trip. Why don't you speak with our travel experts by subscribing to the WakaWaka travel package to find out more about the tour to Seychelles in September?
This tour is not just about you exploring Seychelles, it is also a chance to build your tourist credits. Don't forget to follow us on our Instagram page to watch more travel videos and keep up with our travel updates, tips, and news!
See you in Seychelles in September!
For free travel vouchers, tips and hacks, be sure to subscribe.